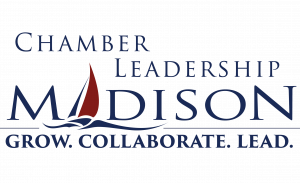 Leadership Madison is an educational program intended for Madison area citizens that have an interest in their communities, their leaders and institutions, and specific leadership opportunities. During the six-month program, participants will hear from area experts, tour places that make our community unique, participate in thought-provoking discussion and learn how and why decisions are made.
Participants must live in the Madison Area and work for a member of the Greater Madison Area Chamber of Commerce. They are expected to attend all sessions, graduation, and participate in a group project over the course of the program.
Make Connections
Community Awareness
Networking
Develop Leadership Skills
Create a Sense of Purpose for Civic Involvement
The Leadership Madison Committee will select up to 16 area people that live or work in the Madison Area. Individuals that are not selected as one of the 16 participants will be added to a wait list.
Tuition for the Leadership Madison Program is $300 and non-refundable. Tuition covers all program costs including materials, speakers, graduation banquet, and Madison/DSU Hosts the Legislature. If selected for the program, the tuition fee must be paid in full by Friday, August 28th, 2020.
September 10th | Discover Yourself
September 24th | Project Planning & Time Management
October 8th | Working Together
October 22nd | Social Media & CyberSecurity
November 5th | Local Government
November 19th | Being an Effective Leader: Part 1
December 3rd | Being an Effective Leader: Part 2
January 14th | Maintaining Company Culture/Hidden Bias
January 28th | Getting to Know Madison
February 11th | Madison/DSU Hosts the Legislature - All Day Trip to Pierre
February 25th | Volunteerism
March 10th | Graduation
The GMACC Leadership Madison Committee is eager to unveil the Leadership Madison Class of 2019-20! We want to say thank you to everyone who applied. There were many fantastic applications and it was a competitive selection process.
Congratulations to the individuals in this class! They will begin their year on September 24th and celebrate March 10th with graduation.
Congratulations to:
Michael DesLauriers - Dakotaland FCU Interlakes Branch
Kelly Dybdahl - Heartland Consumers Power District
Morgan Engbrecht - FirstLine Funding Group
Nicholas Hansen - The Community Center
Nicholas Hansen - SD Department of Labor & Regulation
Jason Holzwarth - Manitou Equipment America, LLC
Russell Luvaas - Manitou Equipment America, LLC
Michael Olson - East River Electric Power Cooperative
Mariah Palmquist - Kibble Equipment, LLC
Grant Schmieg - Mustang Seeds, Inc.
Linda Wagner - Falcon Plastics, Inc.
Emily Wollmann - Madison Regional Health System