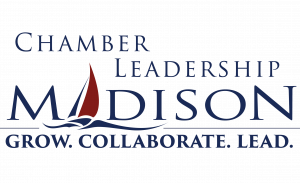 Leadership Madison is an educational program intended for Madison area citizens that have an interest in their communities, their leaders and institutions, and specific leadership opportunities. During the six-month program, participants will hear from area experts, tour places that make our community unique, participate in thought-provoking discussion and learn how and why decisions are made.
Participants must live in the Madison Area and work for a member of the Greater Madison Area Chamber of Commerce. They are expected to attend all sessions, graduation, and participate in a group project over the course of the program.
Make Connections
Community Awareness
Networking
Develop Leadership Skills
Create a Sense of Purpose for Civic Involvement
The Leadership Madison Committee will select up to 12 area people that live or work in the Madison Area. Individuals that are not selected as one of the 12 participants will be added to a wait list.
Tuition for the Leadership Madison Program is $300 and non-refundable. Tuition covers all program costs including materials, speakers, graduation banquet, and Madison/DSU Hosts the Legislature. If selected for the program, the tuition fee must be paid in full by Friday, August 31st, 2020.
2021-22 Session Schedule:
September 15th | Discover Yourself
September 29th | Project Planning & Time Management
October 13th | Working Together
October 27th | Social Media & CyberSecurity
November 10th | Local Government
December 1st | Being an Effective Leader: Part 1
December 15th | Being an Effective Leader: Part 2
January 12th | Getting to Know Madison
January 26th | Maintaining Company Culture/Hidden Bias
February 9th | Madison/DSU Hosts the Legislature - All Day Trip to Pierre
February 23rd | Volunteerism
March 9th | Graduation
The GMACC Leadership Madison Committee is eager to unveil the Leadership Madison Class of 2020-21! We want to say thank you to everyone who applied. There were many fantastic applications and it was a competitive selection process.
Congratulations to the individuals in this class! They will begin their year on September 15th and celebrate March 9th with graduation.
Congratulations to:
Taylor Bloom -- Lake County International
Julie Breu -- Lake County Historical Society
John Dougan -- The Shipwreck Bar & Grill
Josh Entringer -- Madison Regional Health System
Melissa Hegg -- Madison Daily Leader
Mike Kane -- First Bank & Trust
Haley Skattum -- Bulldog Media Group
Tyler Steele -- Dakota State University
Jason Williams -- Firstline Funding Group
Kaylee Winrow -- The Community Center
Charity Woslager -- Falcon Plastics
Sami Zoss -- Dakota State University